While it has been several weeks since the last episode of Gap: The Series aired, the show's two starring actresses, Freen – Sarocha Chankimha and Becky – Rebecca Patricia Armstrong, remain imprinted in the hearts of the fans and even on social media feeds. From then on, the #Freenbeck phenomenon has become the talk of the town both domestically and internationally.
Behind the two's success, everything had been carefully and thoroughly prepared, including developing into character, studying behavior, and sharing stories with each other to make a deeper connection as a partner. We all learned about these processes from Freen and Becky intensely and inevitably kept praising them in our hearts.
THE STANDARD POP would like to introduce them to everyone through this interview, which provides an in-depth look at who they are both on and off the camera, as well as insights into their upbringing in a warmly supportive path, their attitudes toward the LGBTQIA+ community, and their plans for the future.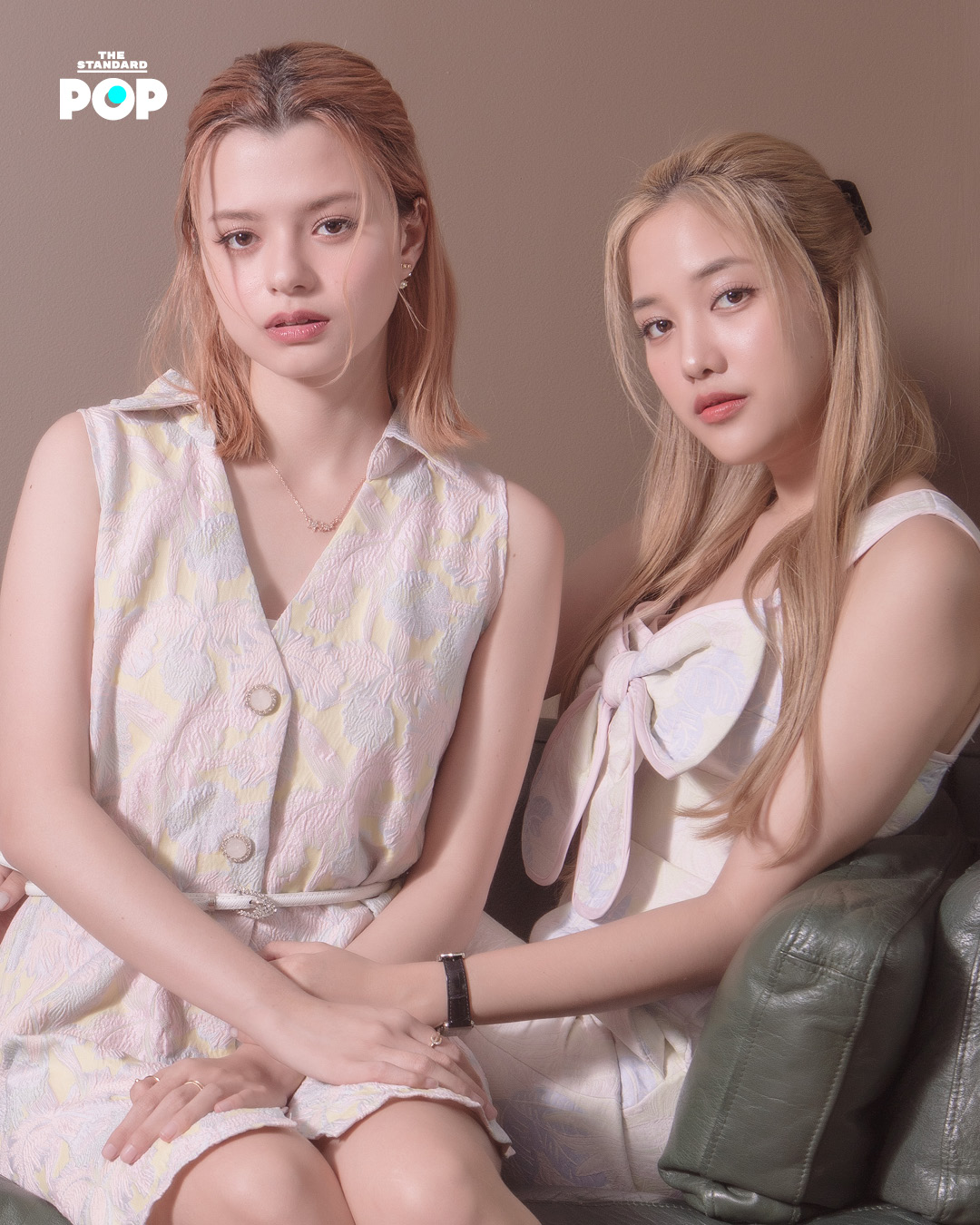 GAP the series is your most recent work, and it is the first time both of you have played lead roles. How did you feel when you found out you were cast as Khun Sam and Mon?
Freen: I had no idea who she was at first. It's very new to both of us. I know this character roughly from reading the novel. I think she's so mature that I can't be that much of her. There was pressure and disbelief, but I needed to do my homework and research the character.
Becky: My side is the same. Who is Mon? Looking at the novel's cover, she looks like a cheery, lively kid, so I thought I could do that part. But I also know that GAP has a lot of fans, and fans may already have a fixed image of Mon and Khun Sam, but I might not match that image. So, there was some pressure on how I could do this. However, in the end, I just mixed my own personality with Mon.
There's an age difference between Freen and Khun Sam. How did you prepare for this role?
Freen: Ever since the first PILOT aired and in the period since filming PILOT, I haven't studied as much as I should, so PILOT came out like that. I studied and did a lot of homework after seeing how the trend was going. Because the character is much older than me, I need to find inspiration. I need to see what business people and people in their 30s do and watch start-up series.
When I received a brief from the director that the series would be something like this, it would be a love story of two people but also a story of work. I have to work with it while facing various obstacles in my life, so I have to study a lot, including personality, family background, how the factory is, how the company is, who I have to meet, and how I have a partner. I did a lot of research.
After reading the script, how do you both think that you are similar or different from the role of the given character?
Becky: I think I'm a lot like Mon because Mon's cheerfulness is similar to mine. But there's probably an issue with my age because I have to play a role older than me. With how I speak and work, I must persuade the audience that this is someone who works for the company. How do we convince people that we aren't just two little kids playing around at the office but that we are, in fact, Working Women?
Freen: Mine is completely different. I didn't know her at first. I was still thinking about how I could transform myself into her at the time. I don't think I'll be able to keep a straight face or stop being funny. How do I convey my emotions to the audience without showing them on my face? It's challenging. The role is really different from who I am. In the end, I have to thank myself for being Freen and giving Khun Sam some cute sides that aren't too sedate or still.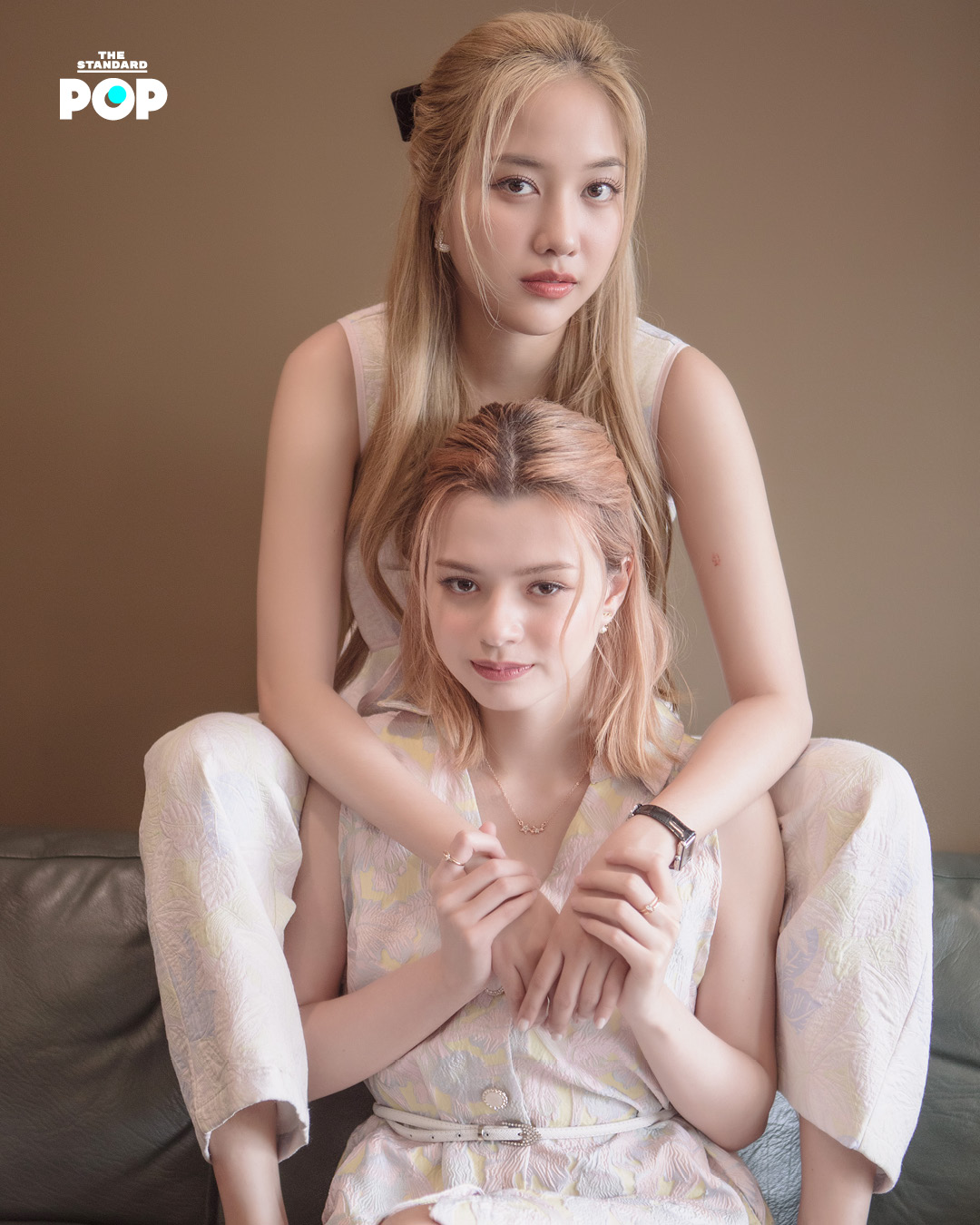 Have you ever read the comments on each EP on various social media platforms? Are there any comments that you find particularly memorable or eye-catching?
Freen: I really like them all. They are all memorable. I read every single one of them.
Beck: Yeah, we play with our fans a lot; trend on Twitter too, so we see everything in real-time. And we always tell the fans that if they have any suggestions or want to make any changes, please don't hesitate to let us know. We are willing to improve.
Freen: We've added symbols or scenes to the series, right? And the fans catch them all. They are connecting pieces together like another director; very cute.
How do you feel when the #Freenbeck phenomenon has reached a large number of fans, and there are even more people waiting to support the work of both of you?
Becky: I never thought that the show would garner so much interest. We owe it all to our devoted fanbase, whether they've been with us from the start and continue to show their love today or are just joining our family. Everyone is really kind; they are a great encouragement to me every day.
Freen: I have to say it's a level-up. It's terrific, and it gets better and better. All the fans are very nice to me, and the number of fans grows every day. We owe it all to fans, as Becky said. It's beyond our expectations. I never thought that people would love us this much, and the positive reception has been rewarding not just for FreenBeck but also for the director, crew, and everyone else involved in creating the series. With more and more people showing their love for us, morale is high. It's like everyone reconizes our great intentions and efforts.
How did you feel when you saw so many people who supported you in front of you after gaining more fans and watching EP.12 together at the event GAP The Series: The Debutante?
Freen: I was shocked when tickets sold out so quickly. It got me thinking about the day the first episode would air. I was wondering if the tickets would sell out at the time. Who is going to come to see me? Coming to this point and seeing so many supporters was overwhelming, and I felt very fortunate to have them.
Becky: When I found out the event would be held at Siam Pavalai, I wondered if the tickets would sell out because the venue was so big. On the d-day, I saw that every seat was taken. When the light was off, everyone turned on the flashlight from their phone, and that brought me tears.
Freen: The last part where GAP The Series OST was over, everyone stood together in the front. My feeling was that we did it. We did great.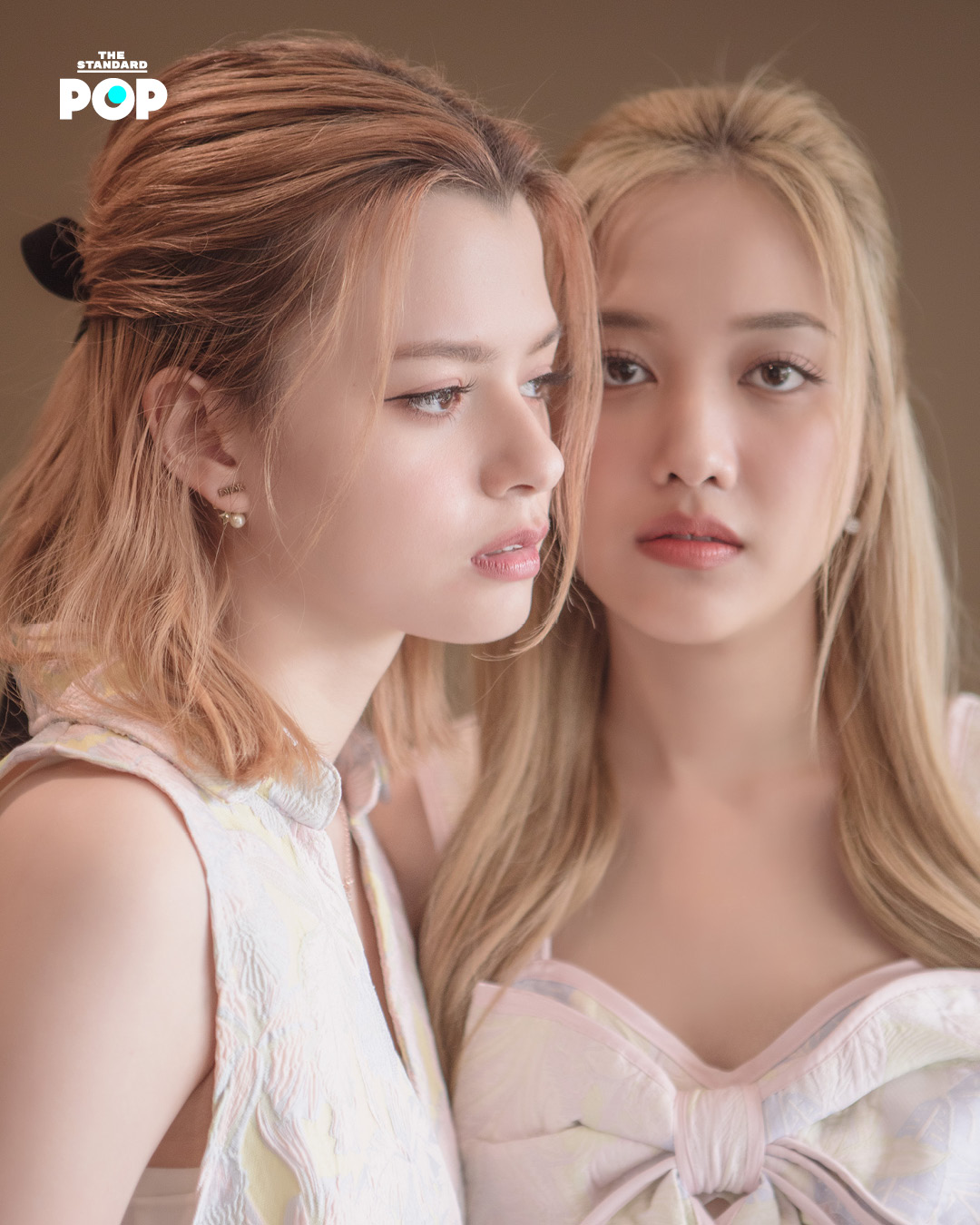 What is your definition of love?
Freen: Let's answer this together.
Freen, Becky: Love is Love.
Freen: Both Freen and Becky have the same definition of love. Personally, I go with my gut feelings, but I also have reasons for them. I'm willing to take risks when I have feelings for someone. But if I don't feel it, I'm not going to rush.
Becky: I want to be with someone who makes me feel at ease, who makes me feel like I want to see that person again, who makes me wonder why time flies so quickly when I'm with that person, and just little things can make me feel that the person is so cute. It's all about feeling.
How do you feel about being the first Girls' Love cast to appear on a mainstream channel? Is there any pressure? And how do you prepare yourself?
Freen: I think it's a good thing. It's spreading the love that everyone can see. As for pressure, I tend to impose it on the script or myself. As I said, the role was somewhat older than me. Being shown on a public channel is good as we get a wider audience from children to adults. I have met fans of all ages at events.
How do you both develop into the characters Khun Sam and Mon, two women who fell in love? How do you learn, study, and find acting techniques?
Freen: In terms of the character, I've done quite a lot of homework. But in terms of the series itself, I just think about what kind of series it is. I want to convey the love of two people through the perspective of one being the CEO and the other being an employee through GAP's norm, just as the title says. So I had to do my homework, grow up, and have a sense of prudence. The family backgrounds of Khun Sam and Mon are very different. Khun Sam doesn't have a supporting family, while Mon has a loving family who always has her back. Khun Sam is weak and fragile on the inside from loneliness, but she needs to appear strong. So I did my research on the background more deeply than just making a straight face. I have to be truly fragile on the inside.
Becky: I read the novel first, and then the screenplay, to get a sense of who this person is and what kind of family background this character has. I also struggled with the language because I had only learned Thai for a while, and the lines were very long. At work, I had to make presentations and argue with Khun Sam a lot. This means I need to fully grasp the script. On set, I let my feelings guide my words. I didn't have to say it exactly according to the script; it's my true feelings.
Freen: That's why I'm not really pressured by the fact that this is Girls' Love; I just go with how I feel at the time.
Have you ever taken on the personality of the character you played? Like even though the director said "cut!", you still couldn't stop the emotion?
Freen: I only realized that when I played a very dramatic scene. In Episode 12, there was a scene where Khun Sam was alone in the house and looking at Mon outside the house. It's heartbreaking. It was as if the events from the first episode were replaying in my mind. It was so sad that I couldn't get it out. The director shouted cut, but I stayed in that spot and continued to cry.
Becky: (turns her face to add information) But what Freen doesn't realize is that if we're just sitting here and not filming, Freen will stay still and not interact with anyone. She must have picked up a lot of Khun Sam's personality because Freen was usually so funny that I had to ask her if she was all right.
Freen: I had no idea I was doing that. But sometimes, I'm so caught up in the role that I don't even realize I'm used to being Khun Sam. But I don't see Becky picking up the character's traits. Are there only dramatic feelings that cannot be removed?
Becky: Yes, but the habit I picked up from Mon could be Mon's emotionality. I'm a sensitive person, but playing Mon takes it to a whole new level because Mon cries almost every episode. So I have to be more in tune with various emotions. Now I'm much more sensitive to words and everything.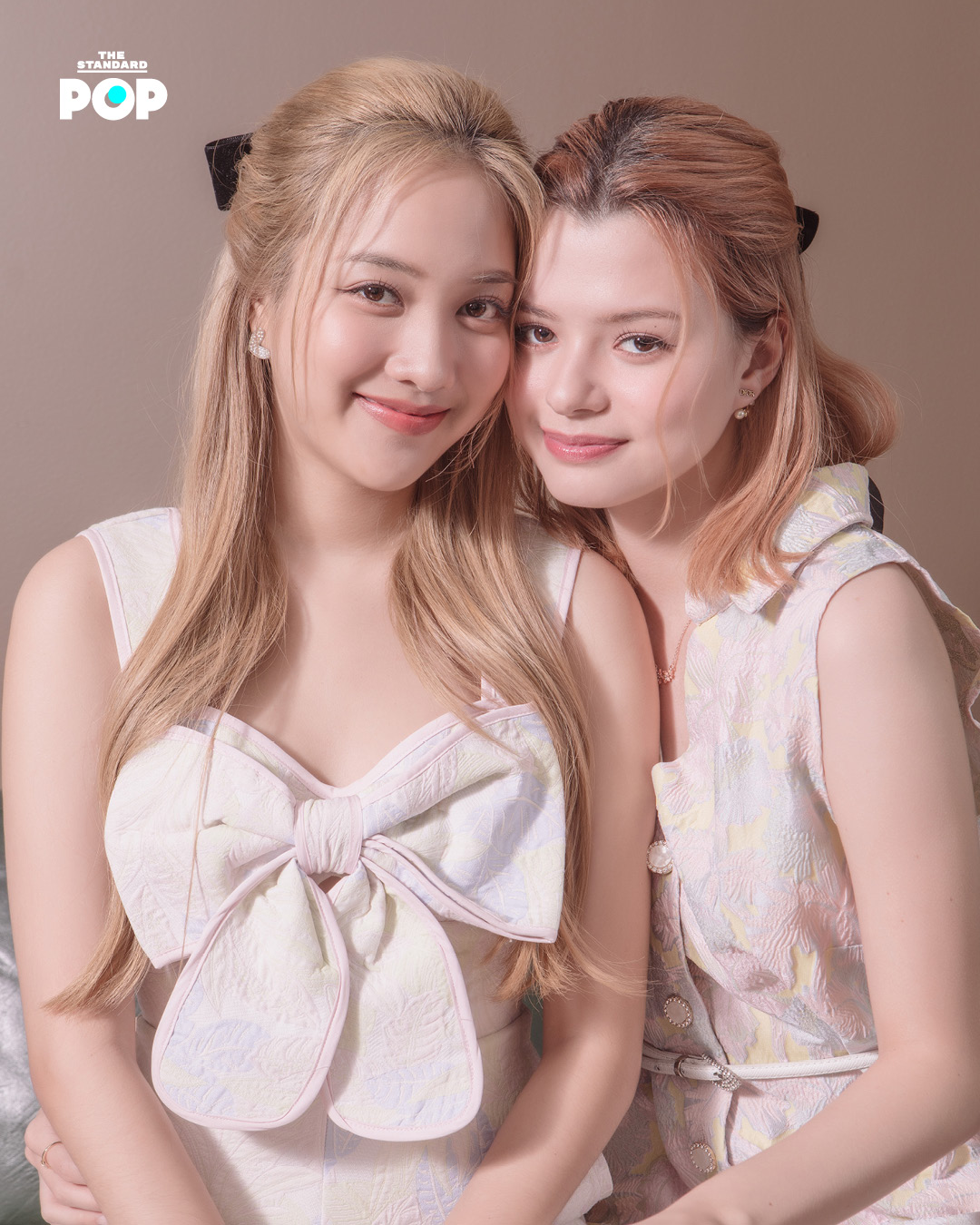 At this point, I'd like you to describe the success of GAP The Series. What do you think makes the series so popular and successful?
Freen: I think it's something new to Thailand. Most importantly, we listen to everyone's opinions regardless of what happens. Our fans have always been on our side and have been an excellent source of support for us. We collect every comment and every criticism of everyone and use it to improve since the day we were hurt, and we gradually climbed back up. It's our genuine dedication and commitment as actors, directors, and everyone else involved. I think that people will notice this. We are really dedicated and have given it our all in every queue, and the number of people waiting to see every episode of our series keeps growing.
Becky: It's like we've grown the series together. From the first day we failed, we listened to everyone to gradually get to the point of success together, and also the story itself is interesting. We followed the story of Khun Sam and Mon together with all the fans from the beginning to the end.
In the final episode, No More Blues was released, which you both sing at the end of the story. What happened during the recording?
Freen: It's difficult for me because it's in English and I'm not a person who is confident in singing anyway. Knowing that I had to sing, I texted Becky for help. It was even more difficult when I got to the recording studio because I didn't get to sing what I had heard in the demo. The lyrics changed while we were in the recording studio. The producer changed the key to match my voice when recording the song. He was great. It matched our voice, and the song was adorable.
Becky: The producer will challenge me to do things I don't think I can do. He likes to hand me higher notes to sing. And I'm like, Freen, am I going to hit that note? But the producer wouldn't let me leave the recording studio until I could do it. When I listened to the entire song, it was fantastic.
Has singing and having your work published sparked your aspirations to sing again, or thinking that singing is fun too?
Freen: For me, it's stepping out of my comfort zone because I don't have the confidence to sing at all. I don't think I can sing well because I believe that singing in the bathroom is the best (laughs). When I actually sang the song, I felt like I was quite alright.
Becky: But I really like it because I've enjoyed singing since I was a child. I'm thrilled to sing in the series. As a child, I used to dream of becoming a singer. When I did it, I felt like I had achieved that goal (big smile).
Throughout the 12 episodes, what was your favorite scene?
Freen: Actually, I love all of them, but my favorite scene is probably the wedding scene in the very last episode which I can say now that the series is over. Everyone should watch it because it requires the most feelings. I felt a surge of feelings. The director told me that Khun Sam couldn't cry because she appeared to have a very calm nature and didn't want to show her weakness to anyone. But on the day of shooting the wedding scene, it made me feel like this was happiness, and I could cry. Then I let it out. It was a very beautiful memory for me to see Khun Sam and Mon on that day. I felt that love was so beautiful.
Becky: For me, it's the wedding scene too. The day we shot this scene was very exciting because I think everyone wanted to get married and wear a wedding gown when they were young, right? And on that day, I wore a long white wedding gown that was a little heavy but very gorgeous. I really liked the ambiance of the event. I can't help but cry when I walk in with music and get to the scene where Mon and Khun Sam speak their hearts out. It's as if we're finally letting everything out and getting to live our lives together.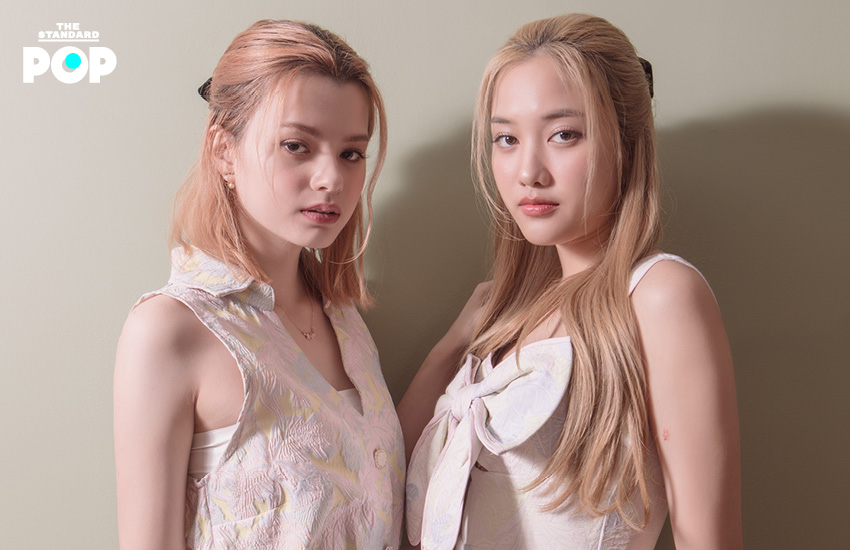 When the series ended, what aspects of your work and personal development did you reflect on?
Freen: It's more like the responsibility. I remember there was a day when we filmed from 5 a.m. to midnight. There were days when I couldn't take it anymore, but I had to keep going and be responsible. I have to be Khun Sam. Becky has to be Mon. I hear SamMon SamMon in my head, and everyone's waiting for us. We must go through those days together. o, after all those days, I felt a lot more responsible for everything. I feel like even when I can't take it anymore, I have to keep going, and it doesn't matter if anything happens to me, but I have to do the best I can.
Becky: From there, it made me a lot more resilient. In the past, I probably couldn't stand a lot and was fussy. But now I'm grown up, and I'm more responsible. It's a job, and I have to do it. I have to be able to distinguish that this is a job. I have to concentrate and focus because opportunities don't come along very often.
On set stories
Freen: Actually, every scene is fun. But I'm thinking of a scene shot at Khun Sam's house. The scene was set up like an art piece. It's a set where the director shows us a picture that it's going to be something like this, it's a picture piece of art like this. Then we have to play Khun Sam and Mon, lying on the bed. We slept while the staff set up our post. We actually slept. I'm not even sure how long it's been since I've slept. The picture has so many angles, left, right, something that has to be a square angle. We cannot move. Legs and arms must be precisely set. So it causes me to fall asleep so deeply that I won't wake up even if someone wakes me up.
Becky: In the next scene, Freen has to morning kiss me.
Freen: Yes, and Beck was really asleep.
Becky: And then I really just woke up.
Freen: We fell asleep from the previous scene. And in this scene, Khun Sam wakes up and checks if Mon is awake. Beck actually fell asleep and just woke up, so it was an actual good morning.
Becky: Then I went back to sleep.
How do you feel after watching EP.12 after such a long journey since the series first aired?
Freen: I cried from the first to the last break, Freen. Until the final episode, I felt like I'm on a roller coaster. There was still something that made me sad at the very last second. It takes my mood up and down and up again.
Becky: That day, we sat together at the top. I kept calling her name as I watched the episode.
Freen: I felt it was very impactful when I watched it on the big screen. It's sweet and grand, and like it really encourages us to feel something. At the time, I thought Khun Sam was a savage. We watched it until the end, and when the scene was over, we were in our wedding gowns. We had to sing the ending song, to which we gave our all. I almost cry on the spot. Finally, the story reached its end the way it was meant to be.
Becky: There were tears in my eyes because we finally succeeded and because we all succeeded together.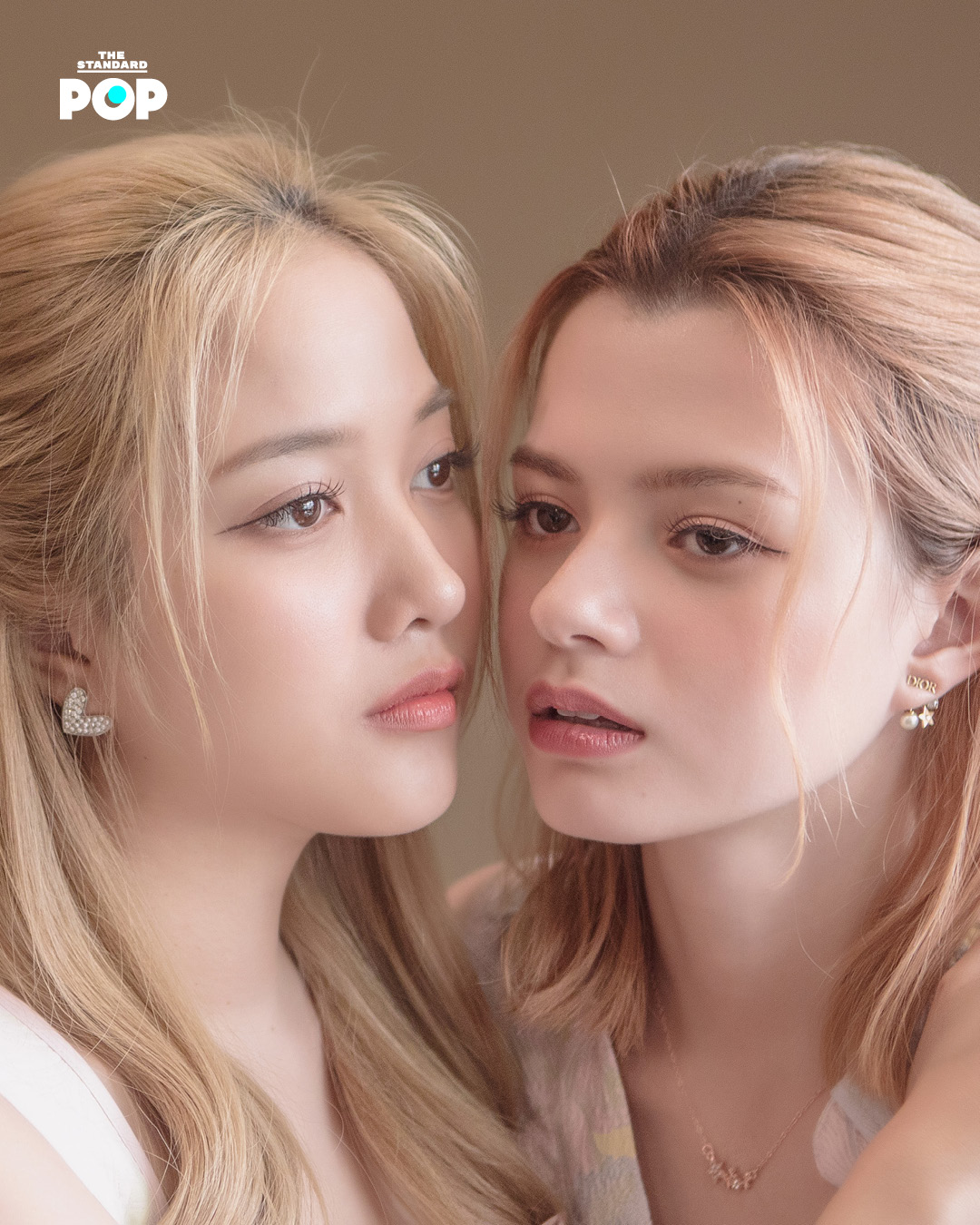 Have your thought towards the LGBTQIA+ community in Thailand changed after taking the role?
Freen: My point of view is the same because I never saw them as a group in the first place. I see them as fellow human beings. They have feelings and thoughts, just like everyone else. So I feel that it's a way of conveying the love of a human being as well.
Becky: Everyone should be able to love. It's a right that everyone has. We just go with our feelings. Why can't we be in love? I think your body your right, your choice.
Freen: Everyone has the right and the duty to love whomever they want and to be anything they want in life. We are just human beings.
What would you like to say about LGBTQIA+ as a law student, Becky? What do you see about the love of two people after playing Mon, who loves Khun Sam with all her heart?
Becky: I believe that everyone has the right to love. If we're with someone and we love them, we deserve to be with them. Same-sex marriage has been discussed in my class because it is a topic that many people are interested in right now. Many countries allow same-sex marriage, but Thailand does not. But, if people continue to open their minds, I hope Thailand will also allow this one day.
As Freen is older than Becky, Freen may have more experience on the matter. How do you, as an actress playing the role of an LGBTQIA+ character, want to be the voice for others and this community?
Freen: I think I've always been a spokesperson before I even became an actress. I believe everyone should be allowed to love someone. There is also no need to separate men-men, women-women, or women-men. Every human being has feelings, thoughts, and everything. It is the right that everyone deserves equally. In terms of law, if it can be achieved, it will be great and will cover all areas. If it actually happened, everyone would be happier.
What do you both expect or hope viewers will get out of this series?
Freen: At first, I just saw myself as an actress, that I would have to be successful if I were to take on the role that was so different from myself. So, I really want to succeed in being Khun Sam. I had so many doubts about this character that I didn't know if people like Khun Sam were in the world. Is it true that people like this exist? Some things are quite toxic because I wouldn't want to encounter anything like this if it were me. But as I got to know this character more and more, I gradually fell in love with this character every day, so I began to change my mindset that the audience would notice these small perspectives that I convey as Freen together with Khun Sam. The audience would eventually come to love this character, as well as all of the characters I play, with all my hard work and dedication.
Becky: So am I. I did my best to be Mon. I want to succeed because it's my first time taking a leading role. I also want to be successful in using the language. Previously, when I played other stories, my Thai language was not strong yet. I could barely read or speak. There are still times when I say things at the wrong times or with the wrong sentence structure, but I believe this is part of the learning process. I want to succeed in the way that I can play this character fully and say I did it.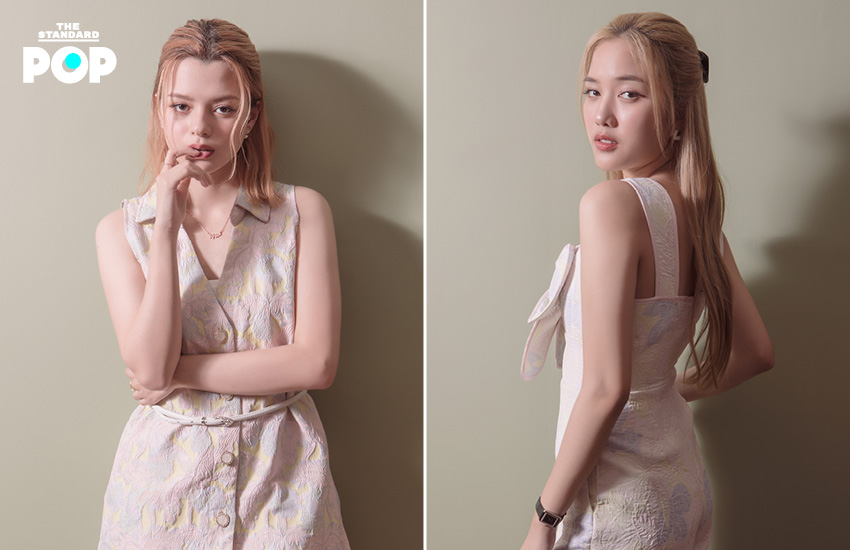 What does GAP The Series give you? and what does it mean to you?
Freen: It's the best memory ever. For me, it's salty, spicy, sour, sweet, and everything. There are things I like and dislike; some feel great, and some are not that great, but they were all the good memories of my life. I feel like it's something that will take me somewhere, regardless of where I end up. I just keep walking with it because this is definitely going to take me somewhere.
Becky: I feel like it's a memory I'll never forget. It's the best experience and the best time of my life. It's made me grow up a lot. It makes me think that I was still that little girl two years ago, but now I've grown a lot. I met a lot of people and gained a lot of experience. I met all the fans who used to know us as Khun Sam and Mon, but now they know us as Freen and Becky. This is the best memory I have.
What is Freen and Becky's GAP The Series in real life? Is there a story or memory in which you feel similar to the character?
Freen: I had a dog that I raised with my grandma since I was a child, Tony. Probably the first dog that I found very lovely. To this day, I still keep the bones it gnawed on. And now that I think about it, it was very cute. It has made my heart flutter from then until now. So I'm indeed a dog person. And knowing that it's gone makes my heart no longer pink. But in the end, it will always be the pink that is always in my heart. Tony is still adorable to me to this day.
Becky: Mine is probably Bon Bon too. Bon Bon came into my life when I was having a stressful time, a gray period in my life, and Bon Bon came into my life to make me happy. Every day I want to go home to meet Bon Bon, talk to Bon Bon, and play with Bon Bon. Bon Bon can't talk to me, but Bon Bon has something that makes me happy. Bon Bon is everything. There was a time when Bon Bon needed surgery, and I was working. Then I got a call that Bon Bon had not awoken from anesthesia. And I was completely depressed after receiving the phone call that day. In the evening, I got the news that Bon Bon was okay then I was okay. So I feel like Bon Bon has a lot of effect on my life.
I want you both to put aside the idea of Khun Sam and Mon and consider whether you two would be able to overcome all barriers posed by your families and Thai society to get married if you were in their shoes.
Becky: As Becky, I think I would try to love myself back but not cut things off with Khun Sam for the rest of my life. But I'd probably fly to England, work, and succeed there. Assuming she really loves me and I've tried a lot for her, but I've had to deal with her ambiguity for a long time. If she really loves me, she'll fly to me. She had to come to England. She must see my worth. I won't wait forever for someone undecided. Beck would have gone to England because life must go on.
Freen: It's very challenging, but I do believe in love. I believe that if we love each other, we will get through everything, no matter happiness or suffering together. It's holding hands, and I'll get through it with you no matter what. Even if one person doesn't believe in love, I still have faith in the other person's ability to succeed. And that person had faith in my ability to succeed. I believe we will both achieve our goals. Some people's aim may not be marriage, but being happy with someone is already considered a success. Even though marriage is the norm, whether legally or culturally if two people can go through things together, I think everything will work out.
Becky: It has to be 50-50, as Mon has to wait for Khun Sam to decide what to do and who to choose. But the truth is that in Mon's heart, she wants Khun Sam to choose Mom Ya. She didn't want Khun Sam to choose her because she didn't want Khun Sam to suffer. So she decided to leave on her own, but she will always be there when Khun Sam needs her.
Freen: It's even harder as Khun Sam because one is her grandma, and the other one is Mon.
Is there anything you want to say to Khun Sam and Mon as they are married?
Freen: Congratulations. I'm so happy for them. It's like I've been with her since she hasn't started feeling for anyone; she has the mindset about love; she still doesn't know if there will be someone who will always be by her side. So now I'm so happy that today there is this person who will always be by her side. Even though there are days when she may not be clear, this person is still on her side. I'm so happy and proud of Khun Sam that she has the courage to overcome her weakness. And I want to tell her that she can cry sometimes. Life wasn't that bad after all.
Becky: Congratulations on being able to be with someone you truly love. Mon may have many people come into her life, but Mon always chooses to love Khun Sam. Congratulations that, in the end, Mon was able to love in a way that made her happy. May there be no more tears after this, only smiles.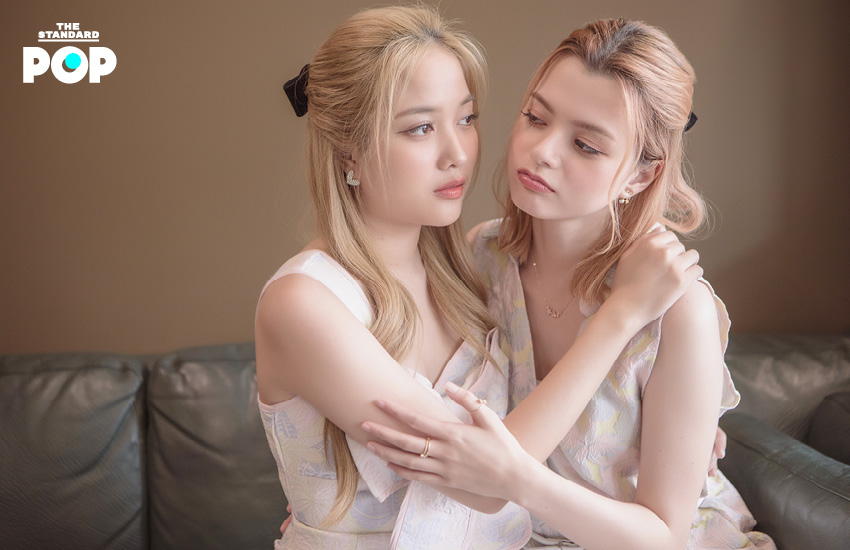 What did you learn from your acting career?
Freen: I'm proud that I get to be who I am even when I'm on camera. I don't want to judge myself from anyone's expectations. I feel like this is when I am proud of myself and respect myself for being responsible, disciplined, and punctual. This profession has taught me a lot because I do not work alone. I have colleagues and fans waiting for me, and we all have to work together to get this done. I could say that this experience helped me mature as well.
Becky: It made me more mature, more of a confident person. If you knew me in the past, you'd know that I was shy, reluctant to speak my mind, and likely to remain alone. But when I become an actress, I have to meet people and socialize. I have to make it, even though it may be a bit out of my comfort zone, but I have to do it. So I feel like I have grown up. It helps me in many ways, not just in the acting field or living in general but also in my study. As a law student, it helps me be confident when presenting work in class and debating with friends. It gives me the feeling that I can do it and boosts my confidence.
Is there anything that both have gained or learned from each other?
Freen: After working with Becky for a while, I've realized that everyone has a different outlook on life and various principles for being themselves. Our ideas and those of others cannot be perfectly aligned. And I can't understand her on everything, so it made me feel that we have to talk and try to understand each other as much as possible.
Becky: Communication is very important because we may not all share the same lifestyle or interests. I can't make anyone like what I like, and Freen can't make me do something I don't want to. We have to find a middle ground where we understand each other. If there are days when we don't understand each other, do not run away and not communicate, don't ignore messages, and turn off the phone. We have to sit down and talk about what to do next. We used to agree that if there was an issue or we got into a fight, we would talk it out so we won't have to fight.
Freen: It's a waste of time. If the other person won't communicate, then the relationship is over. But if we communicate, it's keeping the relationship. No matter the relationship—siblings, a romantic partner, or a family—if it ends, communication is no longer necessary. So we should communicate to keep the relationship and move forward in a better direction.
Is there any story you want to tell each other but haven't yet?
Freen: I always talk to each other. Not just communicating, but also teaching like Beck, you should try this and that. I always tell her everything. There are no stories that I have never told her. We talk to each other all the time.
Becky: Yeah, we really talk about everything, so there's nothing that we keep from each other.
Freen: Yes, I don't know if people who have a work partner will talk this much, but ours have been this way from the start.
Becky: I think it's important because we understand and respect each other a lot.
Freen: Becky is only 20 years old, and I'm older than her, so we're quite different. It's almost as if we are on different paths, but we talk and understand each other. It is a very good thing we talk.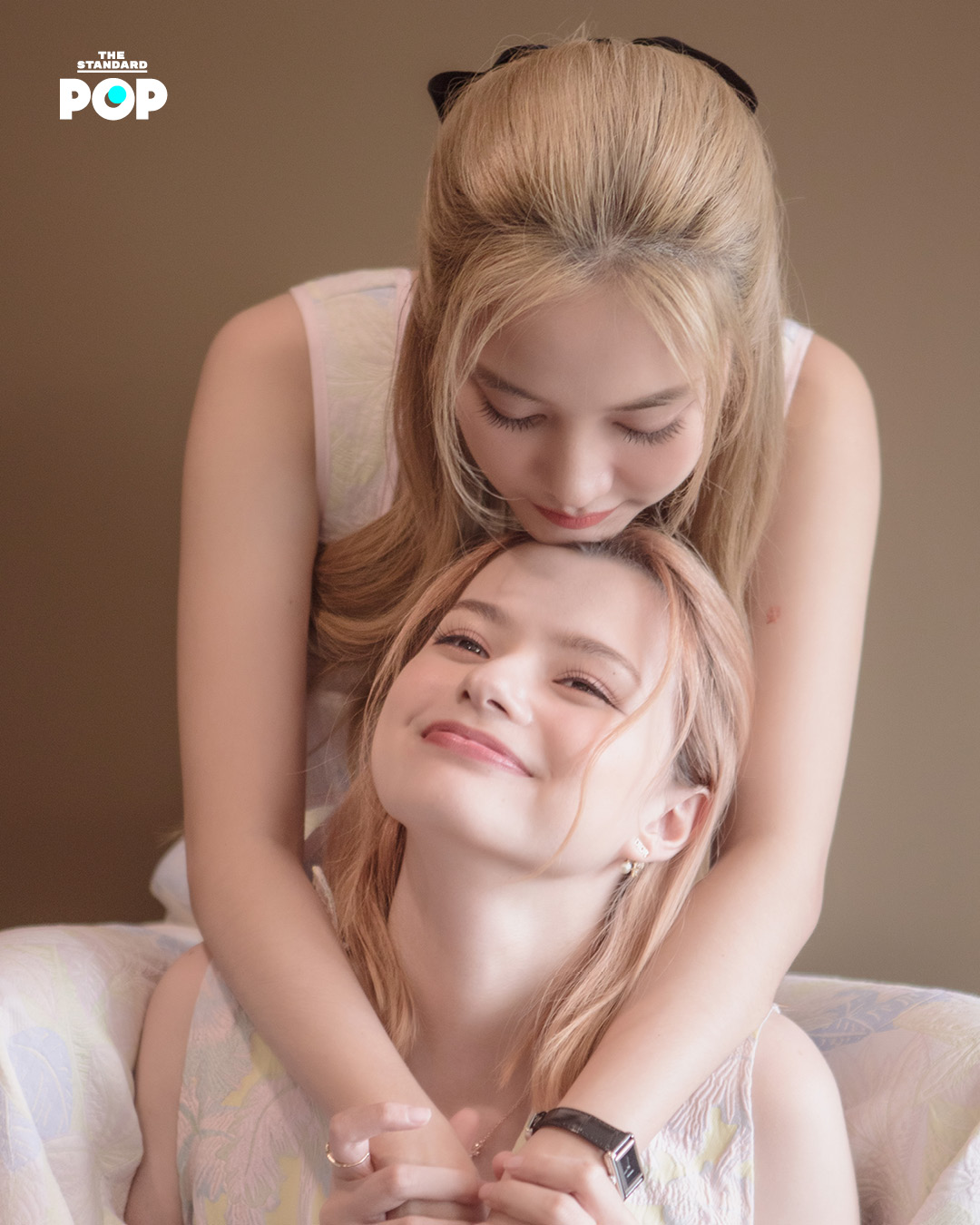 What will Freen and Becky be in 10 years?
Freen: In terms of goal, I just keep going. I believe that if I give it my all right now, anything is possible in the future. Because I don't know if I'll make it to tomorrow, I always try to make the most of every day, no matter what happens. But if I live up to 34, I think I will have a dog. By then, I should already have a home with a cute dog that will grow up with me in my teenage years. I might get into some business with my mom. What I want to do now is grow up in all aspects, whether business, life, or career. And I hope that I stay disease-free.
Becky: I'm quite a life planner. I should be graduating with a double degree in Law this year, right? Then I'm going to continue with a master's degree, so I thought I'd be a judge by day and an actress by night.
Freen: You're such a queen; you won't need to take any more work.
Becky: I should have gained more acting experience by then. I'll seize every chance that comes in. I want to try them all, but if possible, I want to freelance for both. Also, I want to have a house with 2 dogs.
Freen: You need to answer my call as well because I'll be calling to ask for a loan since I'm unemployed.
Becky: I would be driving.
Freen: You should have been able to drive by the age of 25, Beck; at 34, you should have hired a driver.
Becky: Okay, I will hire a driver.
Freen: Will you be dating someone at the age of 30?
Becky: I hope.
Freen: You better date someone by then. It might be hard to ask someone out at 34.
Becky: I'll have to see where my career is going. I want to settle myself first. I want to be able to provide for my family and settle finally with everything first before getting married.
What would you like to tell the fans from your parts if you two had to grow apart one day?
Freen: I believe that FreenBeck will always be in everyone's and my heart, even if we eventually grow apart. Even though Freen and Beck will eventually have to grow apart, whether it comes fast or slow, I will always be a good partner for Beck, and Beck will always be on my side. I want to express my gratitude to everyone who supports everything I do in life, whether it be my job or other events. Everyone is my source of encouragement, and I'll do my best to be with everyone as much as possible. Thank you for loving and supporting me in who I am.
Becky: FrenBeck will always have a special place in my heart. I would keep in touch with Freen. She will always have this little sister to talk to. I'll always be by her side, just like our fans do. I will probably still be the kid who loves milk tea and being childish; it won't change for sure. Thank you for always being by my side and growing together. I want everyone to do what they love and enjoy life every day. Life is really short, and we never know what the future holds. I want you all to enjoy every second of your life.
Freen: I want to say one more thing. I want all fans to be happy in their own way and take us as a part of their lives, not everything in their lives. If one day there's no Freen, Becky, or no more Freenbeck, all their happiness might be gone. I don't want us to be the sole source of their happiness. We can be a part of their lives, but I don't want us to be all of their lives because if one day we are gone, fans will be able to continue to be happy in the future, and we won't worry and will always be by your side.